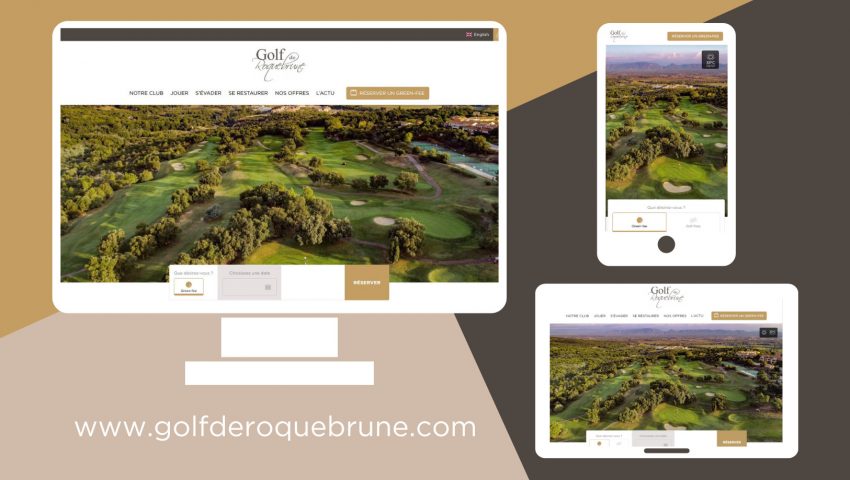 A new website with a new format and features
Check out Golf de Roquebrune's new website now! New sections and features with a more ergonomic design have been added to give you a smoother user experience on all your devices (laptop, mobile or tablet).
New sections for easier navigation
Our new format has new sections to make it easier to find what you want.
– OUR CLUB: find out more about our golf club and its history, access live golf club information, explore our new members page, check out our pro shop and partners, access practical information and discover what equipment and services our golf club has to offer.
– PLAY: keep up-to-date with live information from the golf club, explore our course and driving range in detail and find out more about our golf lessons and prices.
– ESCAPE: find out what activities are available near our golf club and Château de la Bégude, our resort set in stunning surroundings.
– DINE: treat yourself to a gourmet dining experience by enjoying lunch or a drink overlooking the bay of Saint-Raphaël.
– OUR DEALS: see all our special deals, member benefits, Escape Passport golf cards, golf passes and golf gift vouchers.
– NEWS: this page features all the latest news about Resonance Golf Collection, our unmissable events, and tips and advice on improving and perfecting your game.
Booking green fees online has never been easier! As you browse our website, a 'Book green fees' button is permanently displayed, so you can book your tee-off time at the best possible price!
Golf club members can also book a tee-off time using the "Member access" button.